Anodes
The anode is a major component of any battery configuration, and next-generation anode designs are among the most promising and still-uncharted areas of lithium-ion battery research, especially for developing a high energy battery system. Currently, graphite is the main anode material used for commercial cells, which allows Li+ and other small metal ions to pass in and out during charge/discharge following a so-called "intercalation mechanism." However, the low intrinsic capacity of graphite has bottlenecked applications that demand high energy density, such as electric vehicles (EVs) and personal electronics. The Liu group is dedicated to resolving this challenge by developing advanced anode materials, including silicon and Li metal, for liquid and/or solid-state battery systems.
Projects
High Energy Density Anode
High Energy Density Anode
Silicon alloys have the highest specific capacity when used as anode material for lithium-ion batteries, however, the drastic volume change inherent in their use causes formidable challenges toward achieving stable cycling performance. Large quantities of binders and conductive additives are typically necessary to maintain good cell performance.
In this report, an only 2% (by weight) functional conductive polymer binder without any conductive additives was successfully used with a micron-size silicon monoxide (SiO) anode material, demonstrating stable and high gravimetric capacity (> 1000 mAh/g) for ~500 cycles and more than 90% capacity retention. Prelithiation of this anode using stabilized lithium metal powder (SLMP®) improves the first cycle Coulombic efficiency of a SiO/NMC full cell from ~48% to ~90%. The combination enables good capacity retention of more than 80% after 100 cycles at C/3 in a lithium-ion full cell.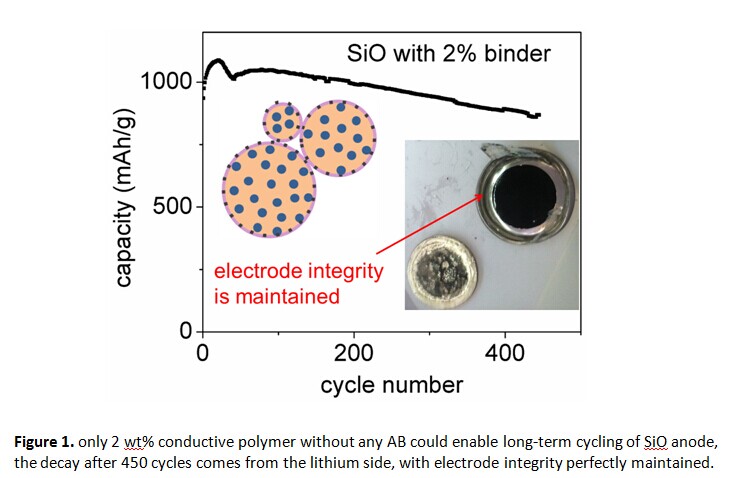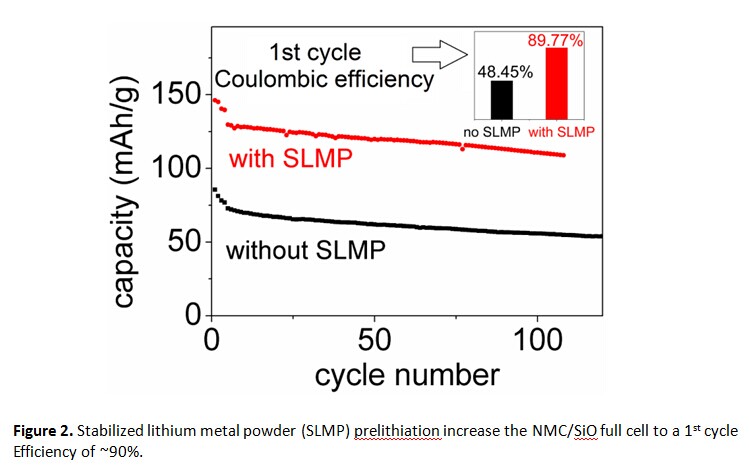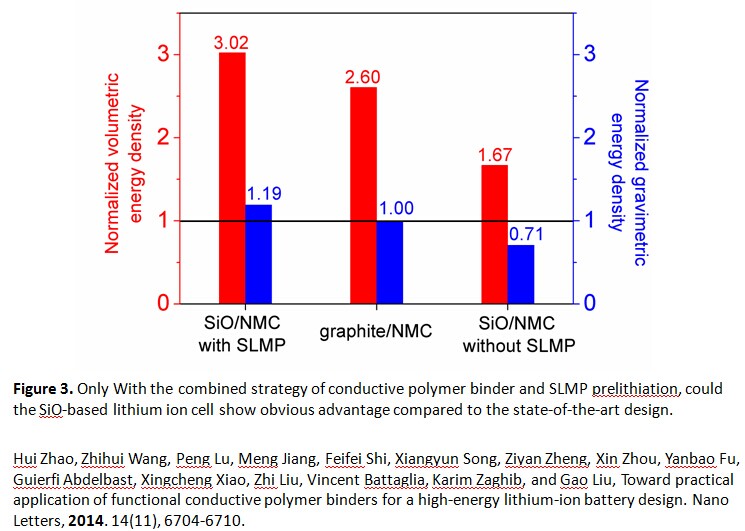 Li Metal Anode Protection & Dendrite Mitigation
Li Metal Anode Protection & Dendrite Mitigation
Li metal anode protection is key to deploying Li metal as anode materials for real application, which would enable significant increase in overall energy density. The most common strategies include constructing protective layers like SEI on top of anode surface to block direct contact or choosing electrolyte with good Li compatibility. 
Si/Conductive Polymer Composites
Si/Conductive Polymer Composites
Silicon (Si) electrode design: Although Si has very high gravimetric energy density, it is very difficult to achieve high energy density at the electrode level with the conventional composite electrode design. We have developed new materials and an electrode fabrication process to incorporate Si materials into a high-loading electrode.
Figure 1. Schematic of working principles of hierarchal electrode design. a. secondary composite particles has a stable dimension during Si lithiation and delithiation. The doted lines are for visual guide. b. planar electrode made with conductive polymer binder and nano Si particles vs. electrode made with secondary composite particles. There is a larger porosity between the secondary composite particles.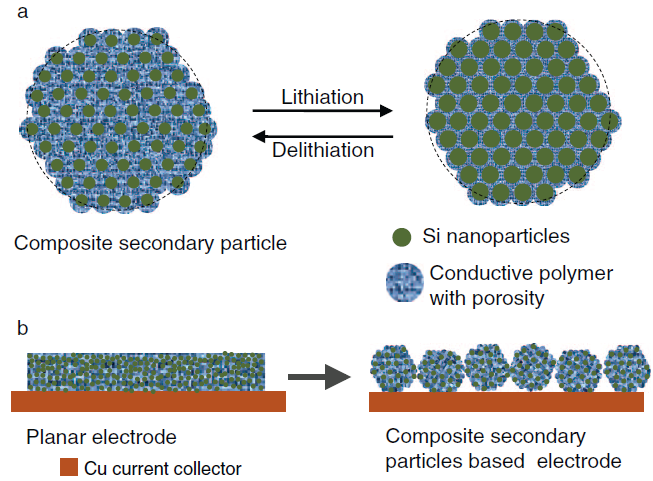 Figure 2. Cycling and rate performance of the hierarchical electrode made with Si/conductive polymer binder composite secondary particles. a. Significant improved loading and cycling stability. b. Significantly improved rate performance (C/10 rate lithiation and variable rate delithiation).

Zhao, Hui
,
Zhihui Wang
,
Peng Lu
,
Meng Jiang
,
Feifei Shi
,
Xiangyun Song
,
Ziyang Zheng
,
Xin Zhou
,
Yanbao Fu
,
Guerfi Abdelbast
,
Xingcheng Xiao
,
Zhi Liu
,
Vincent S. Battaglia
,
Karim Zaghib
, and
Gao Liu
.
"Toward practical application of functional conductive polymer binder for a high-energy lithium-ion battery design."
Nano Letters
14 (2014) 6704–6710.
DOI