Electrolytes
Typical lithium-ion batteries rely on a non-aqueous electrolyte of LiPF6 dissolved in a mixture of organic carbonates. This liquid wets all interior cell surfaces and provides a medium for lithium-ion transport during charge/discharge. The ubiquity of electrolyte within the cell gives it a role in nearly all cell processes, which places an extraordinary number of demands on its electrochemical, chemical, and physical properties. On the other hand, the many roles played by the electrolyte make it a versatile tool for engineering better battery performance. We are engaged in a number of efforts to study and improve lithium-ion electrolytes, including for traditional intercalation chemistries as well as advanced designs like lithium-sulfur.
Projects
Liquid Electrolytes and Additives for Lithium-ion Batteries
Liquid Electrolytes and Additives for Lithium-ion Batteries
A carbonate-based electrolyte has been  widely used in lithium-ion batteries, due to its large stable potential window from 0.8 volts (V) to ~5V (Li/Li+). The solid-electrolyte interface (SEI) formation allows for anode electrodes to operate below 0.8 V (Li/Li+). Additives play a critical role in the SEI formation process. We have developed different types of additives to facilitate functional SEI formation on the anode surface.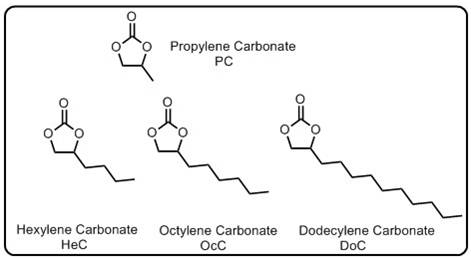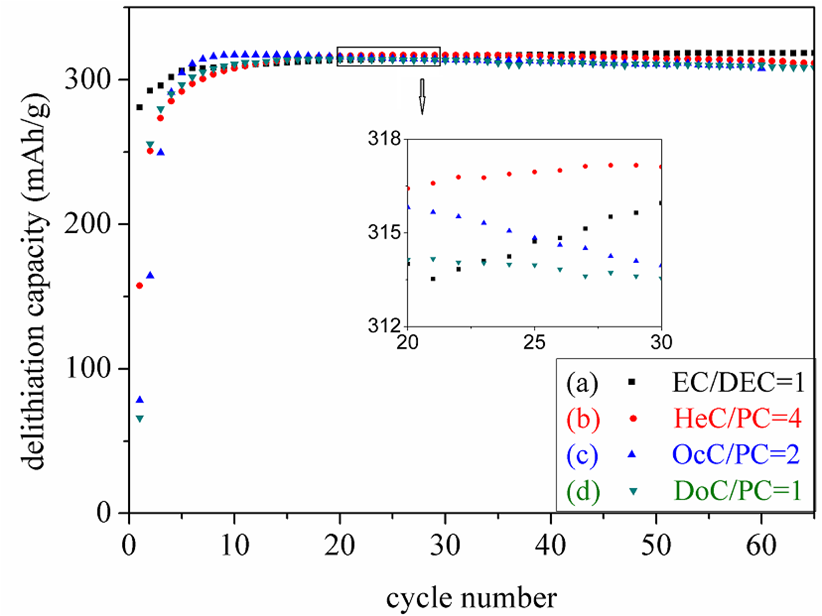 Graphite Half cell cycled at C/10 rate based on the synthesized PC-cosolvents with 1M LiPF6.
Fluorinated Electrolyte Additives
Fluorinated Electrolyte Additives
Recently, our goup has dedicated to a novel strategy to suppress the polysulfide dissolution by using hydrofluoroethers (HFEs) electrolyte additive. A bi-functional, surfactant-like molecule structure with a polar lithiophilic "head" attached to a fluorinated lithiophobic "tail", was designed for these HFE solvents whereby a unique solvation mechanism is proposed: dissociated lithium ions are readily coordinated with lithiophilic "head" to induce self-assembly into micelle-like complex structures. These HFE-based electrolytes are found to prevent polysulfide dissolution and to have excellent chemical compatibility with lithium metal, which is evidenced by superior battery performance of Li-S cells and Li||Cu stripping/plating tests reveal high coulombic efficiency (>99.5%), modest polarization, and smooth surface morphology of the uniformly deposited lithium.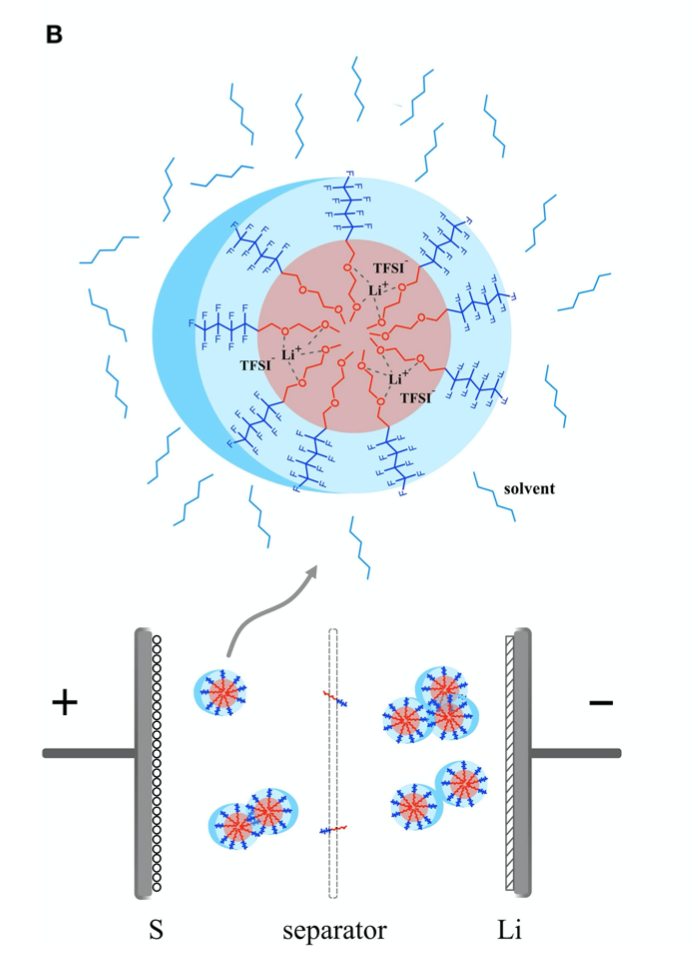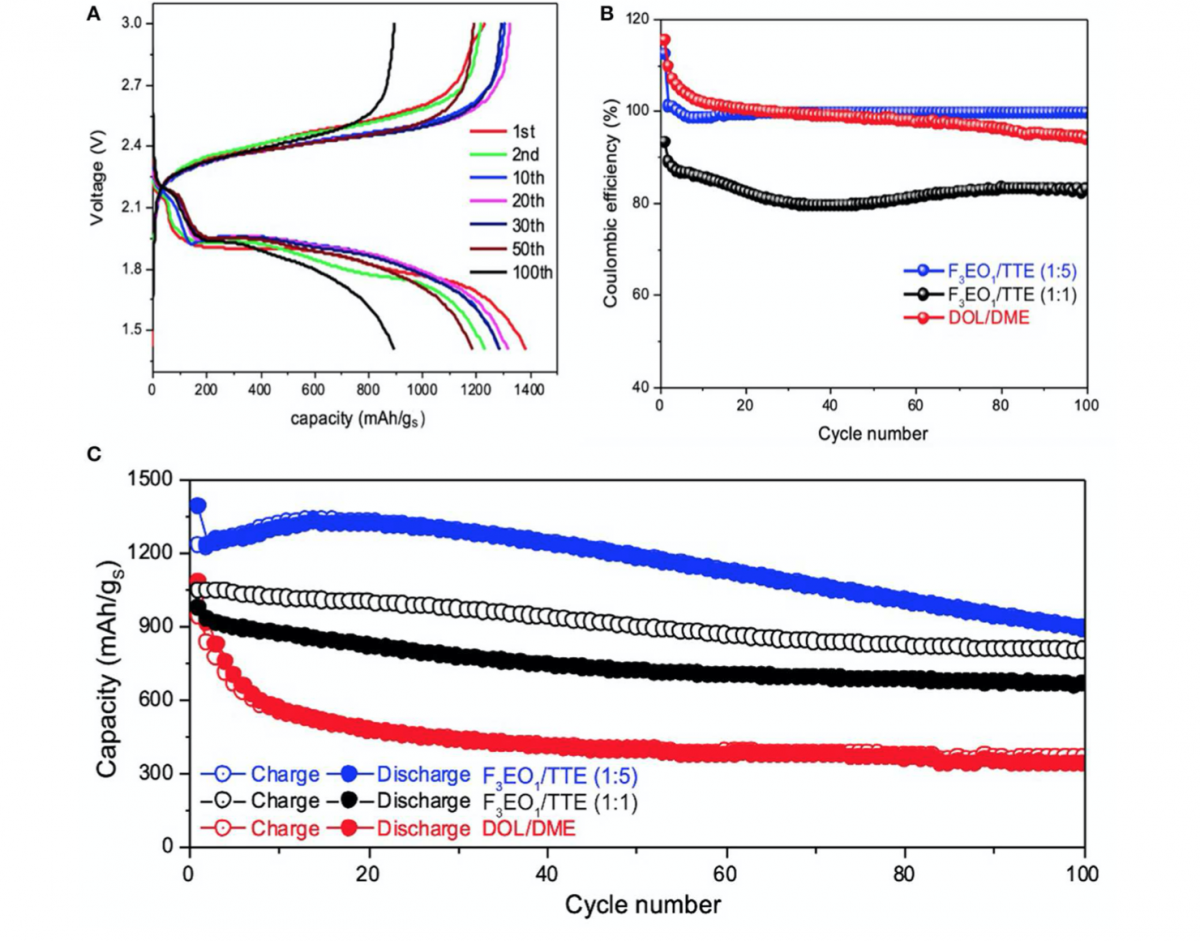 Electrolytes for Low Temperature Li-ion Batteries
Electrolytes for Low Temperature Li-ion Batteries
Lithium-ion batteries often function poorly at sub-zero temperatures, with corresponding voltage and capacity losses becoming most notable around -20°C. However, many emerging applications require robust energy storage under such conditions; for instance, an electric vehicle must deliver similar driving range in both the winter and summer. Accordingly, the US Department of Energy has set a target of >70% usable energy (compared to room temperature) available at -20°C and C/3 discharge rate for electric vehicle battery packs.We are working to meet this goal through rational engineering of electrolyte composition (additives, solvents, and salts), which has been shown to largely influence lithium-ion behavior at low temperature. By careful study of electrolyte effects on internal resistance via charge transfer, interfacial chemistry, and bulk ion transport, we hope to uncover new insight into low-temperature performance characteristics and develop novel materials strategies to optimize the usable energy of cells.
Solution-Phase Processed Solid Electrolytes
Solution-Phase Processed Solid Electrolytes
Solid electrolytes are promising materials for enabling next-generation lithium metal batteries. However, the current methods for fabricating fully solid-state cells are incompatible with the roll-to-roll processes used in the lithium-ion battery industry. Solution phase processing of solid electrolytes is a promising option as a drop-in replacement for traditional liquid electrolytes. This also allows for the synthesis of composite materials that can address other challenges with solid electrolytes including low fracture toughness and poor compliancy with electrode volume expansion/contraction during cycling. The Liu group is exploring strategies for solution phase processing of solid-electrolyte-polymer composites. This work is in collaboration with Wei Tong (LBL) and Bryan McCloskey (LBL/UCB).